Joy, Peace And Love
We believe life gets G O O D when you can be compassionate! At Joy, Peace & Love we exercise our passion to support little people and pets with our profits. Yes, when we collaborate to promote your school, business or corporate image, your brand or event -- it travels with gusto to lovingly touch others.
Remember us when you know someone with a "cause" to support. Check out our fundraiser "cause" on our News and Events page. This motivates us to serve you with the utmost hard work, creativity and a sincere heart. We have a saying at Joy, Peace and Love, it is: "You have one life to live, give!"
The scarlet thread running through what we do is that we want to be a blessing to the human spirit. Joy, Peace & Love should be your company of choice for visually celebrating the achievements in life with an award, plaque, certificate or trophy. Our beautiful recognition items strengthen the resolve of the recipient and positively influence others who see them. This type of tangible gift allows your praise to last a lifetime.
Today is a day to exercise compassion! "God's creations, big or small, deserve care from us all."
Featured Item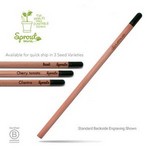 Sprout Pencil
A billboard that grows on. A pencil that grows! An Eco-friendly pencil, seed, and plant marker. Comes in 5 different Herb varieties: Basil, Cilantro, Parsley, Cherry Tomatoes and Mint. Made in USA. 10...
$2.45 - $3.10